News & Events
June 4, 2013
Pelican Rest Marina has partnered with The RK Group to open Number 13, an upscale steakhouse in Galveston's yachting hub. Set to open in late summer 2013, the restaurant will feature prime steaks and line-caught, Gulf seafood along exciting appetizers and decadent desserts. The upscale cuisine will be paired with an Island feel, welcoming guests who are casually enjoying a day on the boat or dressed for a night out. Number 13 will also boast an impressive list of whiskey, bourbon, wine, beer and specialty cocktails.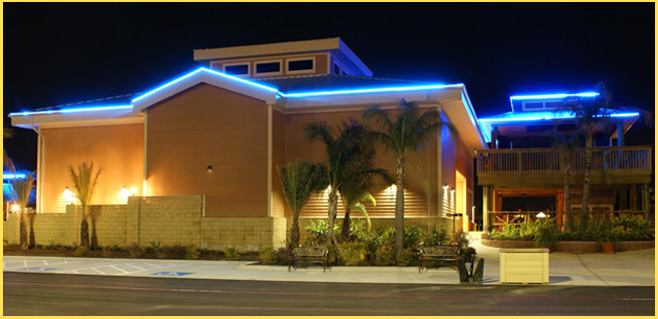 "Number 13 is going to provide visitors and residents of the area with a delicious and unique dining option," says the Managing Partner. "Pelican Rest Marina is thrilled to have secured such a strong partnership with The RK Group and look forward to bringing this upscale restaurant to the visitors and residents of Galveston."
The RK Group is a family-owned company with deep roots in the culinary world. In their 67-year history, they have catered countless events, run cafes and restaurants and planned impeccable parties, making their name synonymous with excellence in the culinary world. Number 13 is the company's latest venture in the Houston area.
"We are thrilled to be a part of this project and a partner of the great minds behind the Pelican Rest Marina," says Greg Kowalski, president and CEO of The RK Group. "Galveston is such a vibrant and thriving community and we are so thankful to have already been received with open arms. We look forward to welcoming tourists and locals alike."
Number 13 will offer indoor and outdoor seating areas with views of the Pelican Rest Marina and Offatt's Bayou. The restaurant will serve lunch and dinner daily and will offer catering for private events around the island.
About The RK Group
The RK Group is a catering and events company with offices in San Antonio, Austin, Houston and Phoenix. The family-owned company boasts 67 years of experience providing everything from catering services for events of all sizes to rental equipment, event planning services, transportation and more. Companies under the RK Group umbrella include: Rosemary's Catering, Illusions Rentals and Designs, Flair Floral, Circa Destination Management, Meetings Plus, the RK Group, LLC as well as numerous partnerships with cafes and restaurants.
About Pelican Rest Marina
Pelican Rest Marina is located on the north side of Offatt's Bayou, a long-standing natural yachting hub for Galveston. The Marina is the newest and one of the most upscale in Texas. Billed by the owner as the "Gateway to Galveston," the Marina is a part of a multi-use high-end complex in the center of a growing and vibrant area. The new marina serves as a social and commercial hub and destination for boaters along the entire Gulf Coast. The multi-phase project will offer waterfront housing, upscale dining, slips for yachts and boats of all sizes, private event space and all the amenities of a white-glove marina.
For Information
Pelican Rest Marina
7819 Broadway
Galveston, TX 77554
Office: 409-744-2618
Fax: 409-744-2361
Web: www.pelicanrestmarina.com
Email: info@pelicanrestmarina.com
###
December 19, 2012

The new restaurant is nearing completion. Great steaks, margaritas, and an incredible view are coming soon.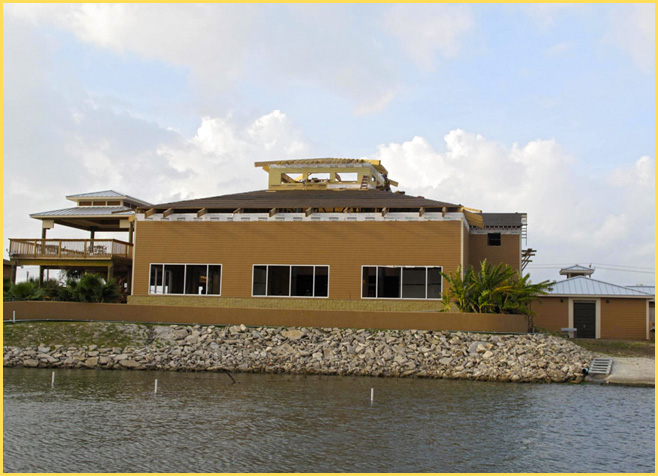 October 13, 2012
The Houston Big Game Fish Club hosted the Ronald McDonald House children & their families for a fun day of fishing at Pelican Rest Marina.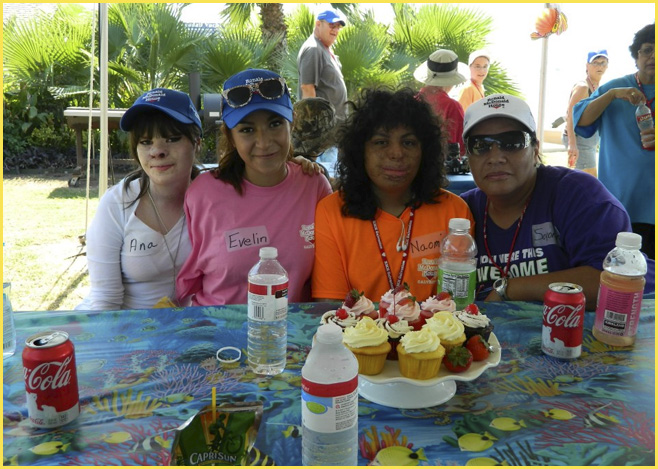 September 20, 2012
Lots of storage space available in our bodegas.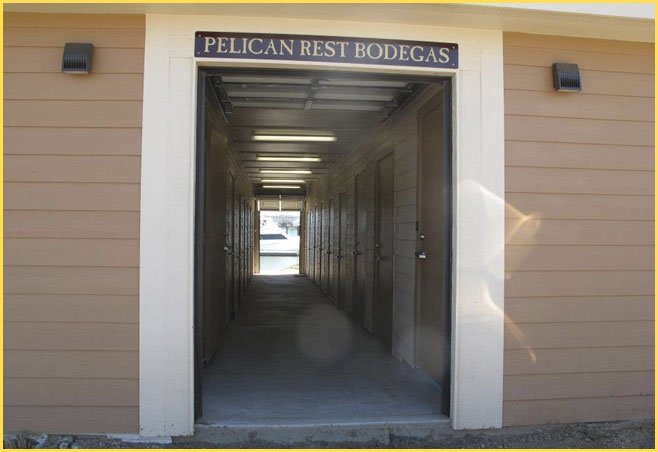 ###
September 19, 2012

The restaurant going up! Another step closer to the best steak, burger, margarita, and view on the island!!!!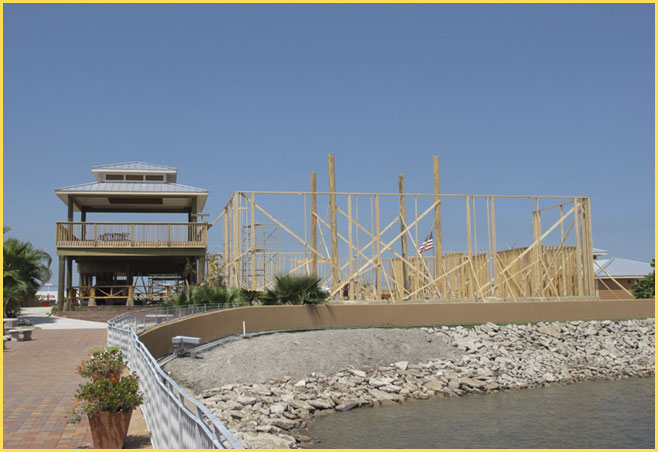 ###
September 5, 2012
The new slab for the restaurant going in. One step closer to the best steak, burger, margarita, and view on the island!!!!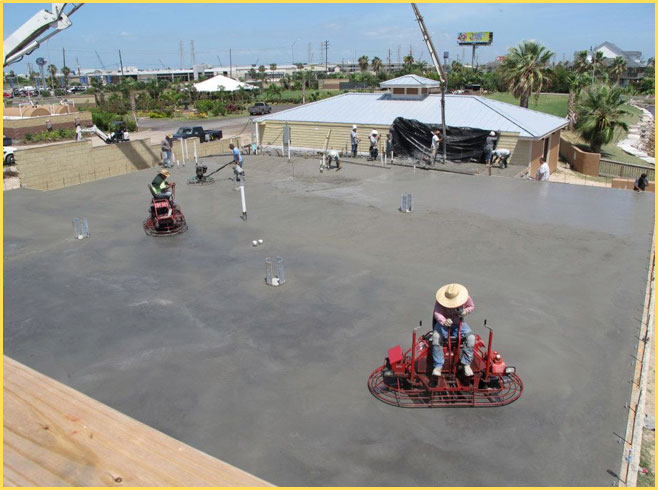 ###
August 18, 2012
Richie Homminga weighs an Alligator Gar at Pelican Rest Marina.Pelican Rest Marina is an IGFA Certified Weigh Station. Richie's Alligator Gar was caught on 6# test and weighed 47.3 lbs. The paperwork has been turned into IGFA and this fish is pending to set a new record!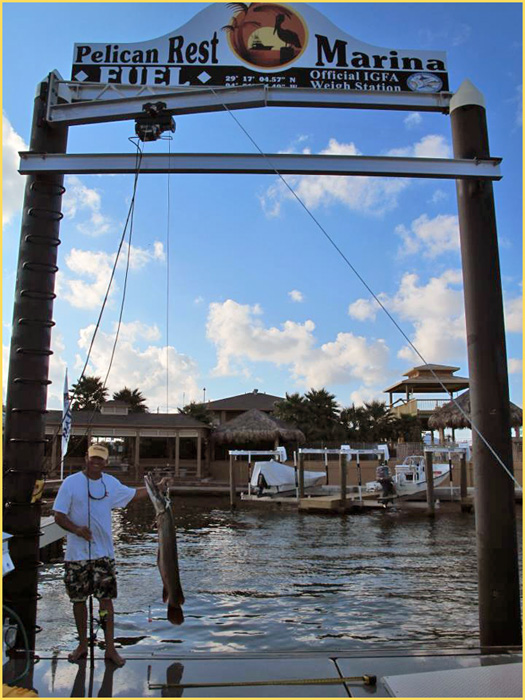 ###
August 17, 2012
Filmed a segment with ABC 13 today in conjunction with the Galveston Bay Foundation and our partnership at Pelican Rest Marina on our oyster restoration. Stay tuned for the date next week of when it will air.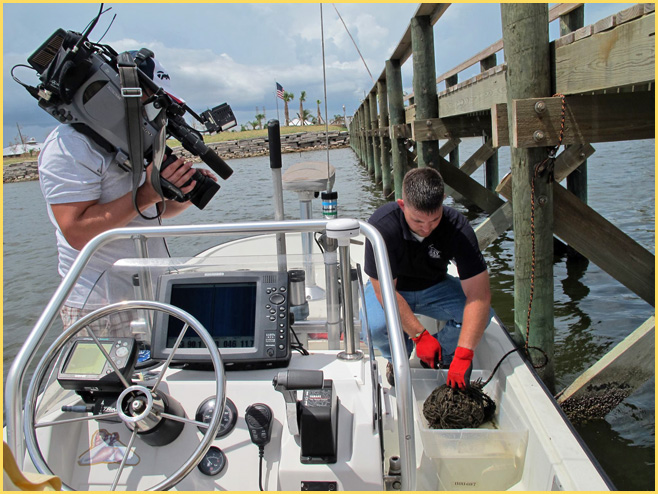 ###
June 24

New sign going up!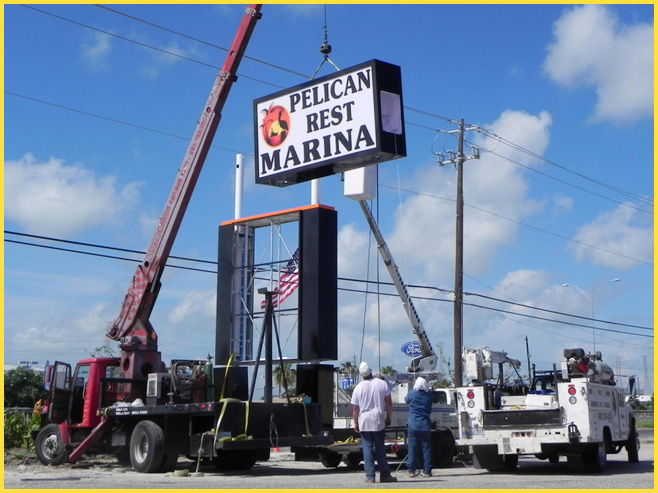 ###
June 8
Fuel dock opens for business selling gasoline and diesel.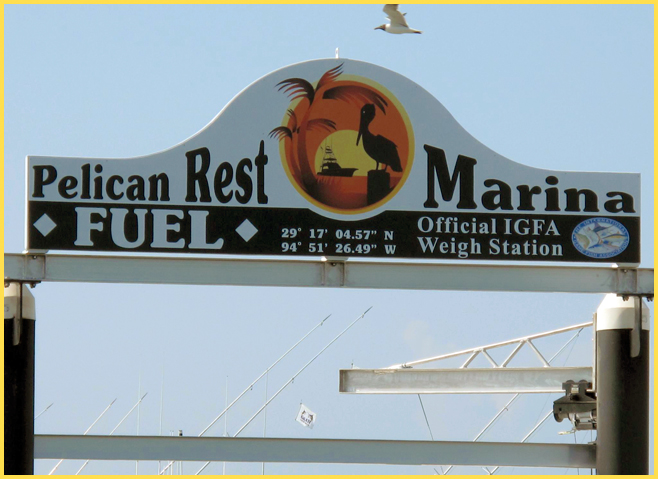 ###
June 2
Participants in the Lipstick & Lures tournament weigh-in at Pelican Rest Marina.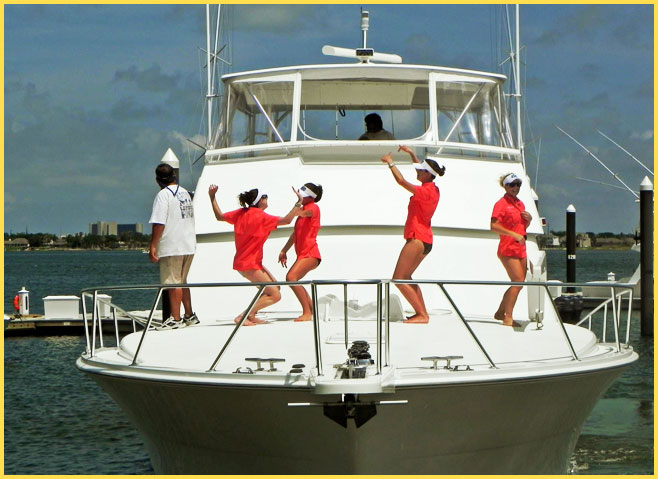 ###
June 2
The Galveston Bay Foundation worked with Pelican Rest Marina to hang 20 oyster gardening bags from one of the Marina's piers. These bags provide a location for oyster larvae to settle and grow. The hope is these bags will indicate that the small oyster reefs adjacent to the pier are reproducing.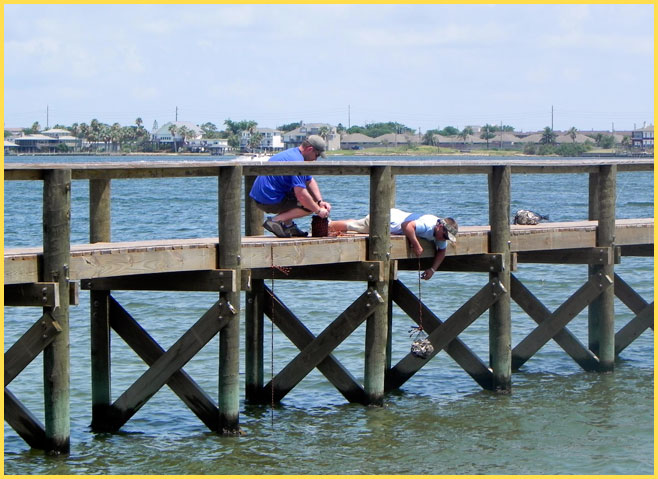 ###
April 19, 2012
Getting the new fuel dock ready.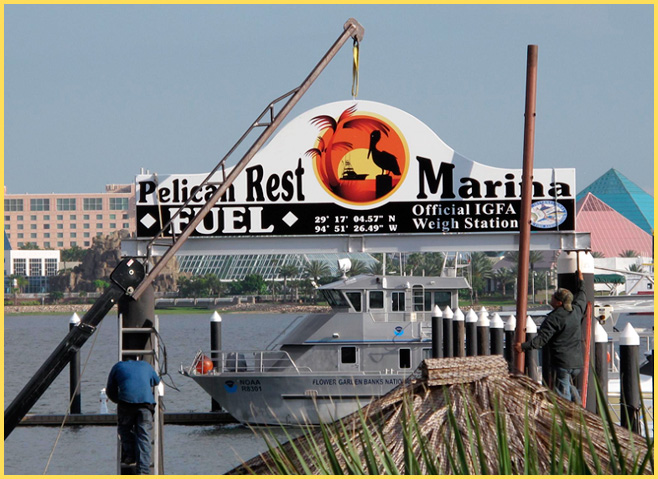 April 8, 2012
Easter Bunny visits Pelican Rest Marina.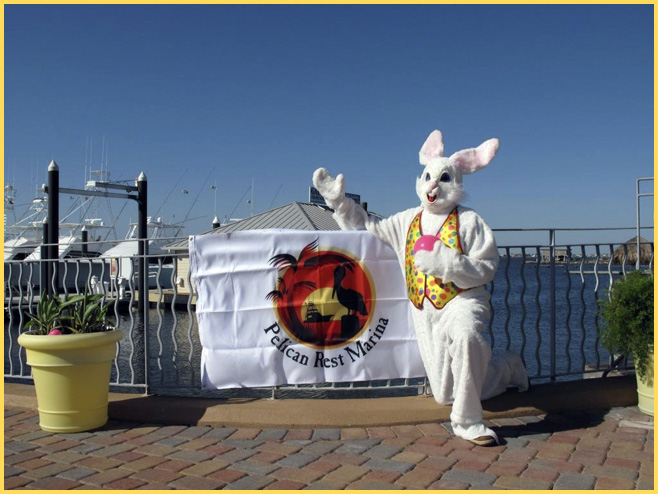 ###
April 8, 2012
NOAA's Flower Garden Banks vessel docked at Pelican Rest Marina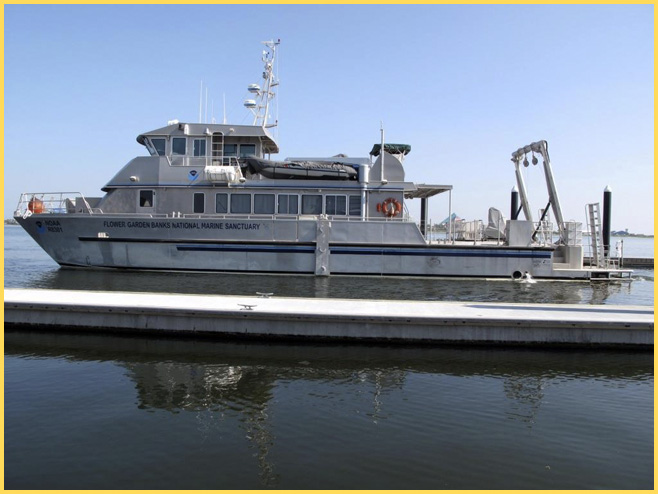 ###
March 22, 2012
Galati Yacht Sales moving to Pelican Rest Marina.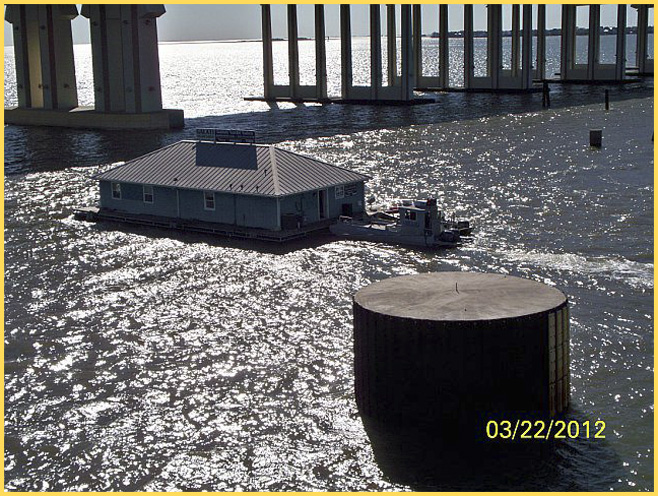 ###
February 28, 2012
Pelican Rest Marina receives its certification in the Clean Texas Marina Program!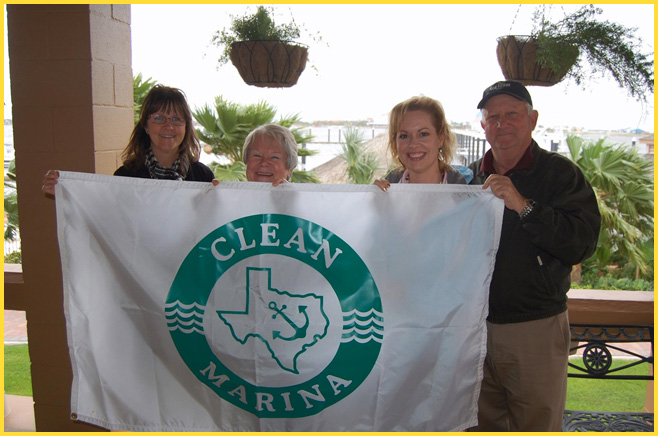 ###
January 23, 2012
Yacht from Lakewood Yacht Club visiting Pelican Rest Marina.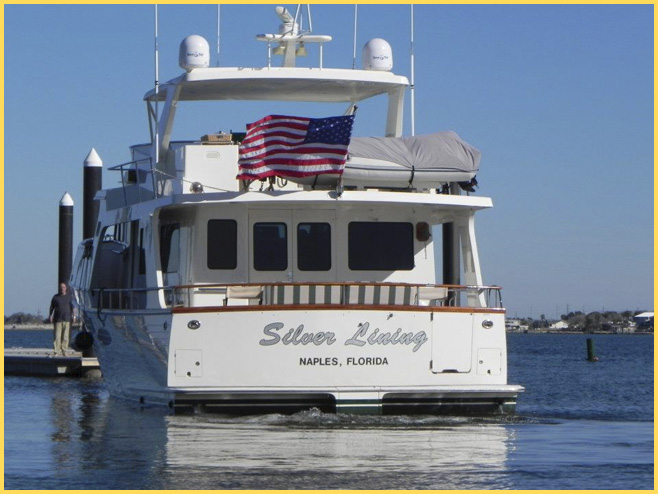 ###